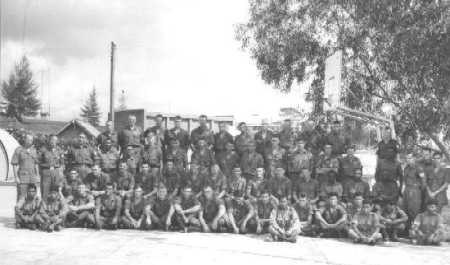 This new photo came in from Larry Cohran, CTT #11. This is the 4th CTT Course at BJWS - and Larry also has the names!!

From L to R, Sitting Front: S Sini Pras, Shari, Ping ding, Abdul, ---, ---. Sitting L to R: 2nd Row: 1st Team: Lt. Witter, Sgt. Nahinu. Burke, Cohran, Seydell, Turner, George, Lawson, Swearginger, Iyotte, Lachney, Santiago. Second Row Sitting L to R: 2nd Team: Sgt. Gorham, Lt. Bell, Sgt. Golden, Duble, Blyle, Howard, Reed, Tolson, Taylor, Pender, Wiggins, Womack, Martin, Dinkins. Standing, Sgt. Richardson 3rd Team: Sgt. Mattsamotto, Jernigan (O.C.S.), Taggert, Key, Leepack, Johnson, Reed, Schafer, Gilbert, Robinson, Sgt. Kockles. 4th Row: 4th Team: Lt. Williams, Sgt. Denim, Sgt. Teters, Hardy, Hahn, Cannon, Boyer, Murchand, Cupla, Smoot, Tex Miller, Sgt. Cherry.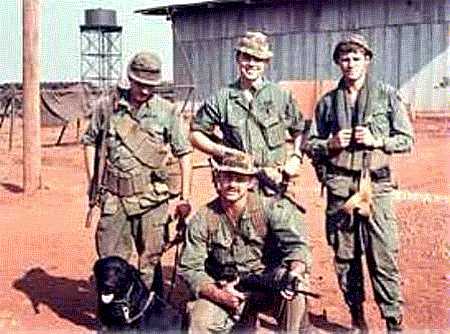 This "is a photo of my team A, 64th Trackers, 4th Division, Camp Enari, Pleiku. From L-R is Reg Roles handler, me Tom McCart (Sgt) Team Leader, Larry Scott Visual Tracker, and Harry Tarven cover man and of course Butch (Black Lab), our super duper pooper snooper". "We were very lucky and saw a lot of action all over the Central Highlands. We worked with the famous 101 Airborne division, The First Cav, countless French, Canadian, and Australian, Mercenaries at Kontoon Firebase."

Thanks Tom for this photo and caption.