The photos on this page can from Clive Seydell. They represent an important part of Tracker history, the transition from British training a JWS in Malaysia to U.S. Army training in CONUS at Fort Gordon, Georgia. Thanks Clive for saving and sharing these images. Above is the first Tracker Class at Ft. Gordon, GA. taken 11 September, 1968. FIRST ROW, L to R: Faculty Advisors - SSGT Ray Adams, Major F.H."Huia" Woods, SGT. Clive L. Seydell. SECOND ROW, L to R: PVT. Richard L. Riggs, PVT. Carl E. McNeal, PVT. Mitchell K. Whitaker, PVT. Miguel Morales, PVT. Danny K. Duncan, PVT. Patrick A. Yeomans. THIRD ROW, L to R: PVT. Arville W. Hillhouse, PVT. Bruce M. Johnson, PVT. Wade A. Lansing, PVT. Joseph W. Aaron, PVT. William H. Mendenthall, PVT. Daniel A. Jaroslaw, PVT. Stephen R. Blakely. FOURTH ROW, L to R: SSGT John R. Benthien, SP4 George D. Battles, SGT. John B. Lindsey, SGT. Sylvester D. McDonald, SP4 English R. Brown.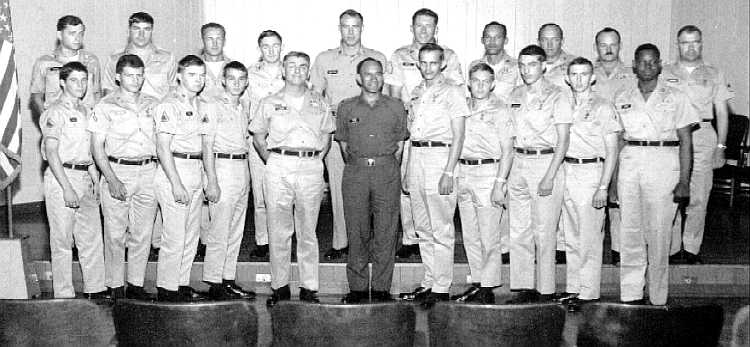 Graduation of the first Visual Tracker class to be trained at Fort Gordon. This photo was taken on 11 October, 1968 at Gullion Hall. The following are Graduates and Instructors: LTC. Daniel T. Larkin, CPT. Winton G. Campbell Jr., MAJ. F.H. Woods (G.B.), MSG. Lawrence Twyman. SSG. Daniel F. Trarp, SSG. Ray Adams, SFC. Joseph M. Nicholson, SGT. Clive Seydell, SGT. George Battles, SGT. Edwin Lindsey, SGT. Gary Nabors, SP4 Steven Tedall, PFC. Richard Biggs, PFC. Arville Hillhouse, PFC. Daniel Jaroslaw, PCF. Bruce Johnson, PFC.Wade Lansing, PFC. William Mendenhall, PFC. Carl McNeal, PFC. Mitchell Whitaker, and PFC. Patrick Yeomans.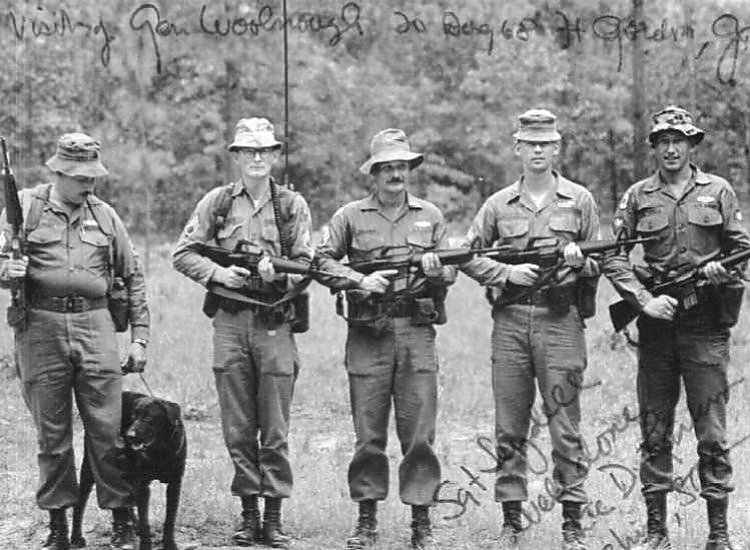 The Tracking demonstration Team for visiting General Woolnough given 20 August, 1968 at Ft. Gordon, GA. From Left to Right: SFC Patrick Majors "Pappy", SSG David McDow "Mac", SSG Daniel F. Trarp "Dan", SGT Mike Sisco and SP4 Clive Seydell. Thanks to Mike Sisco for the identification.