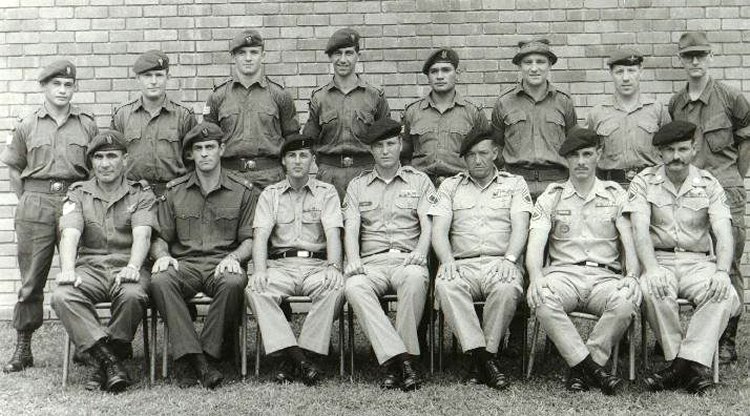 These photos came from Francis Celino. He was with the DTD and discribes himself as "chief clerk-bottle washer-driver-mail person". Pictured are the cadre at BJWS in 1967. Front row, left to right: Staff Rutledge, Hugh Oakley-Browne, Lt. Malone, SSgt Gibson, SSgt. "Pop" Adams, SSgt. Syndrum, SSgt. Dan Tharp. Back row, left to right: (Little Joe?), (?), (Judd?), (?), (?), (Ausie Snowy Saville?), (Brit Color Sgt. Major?), Francis Celino. - From Rex Anderson 5/29/15 Back row: "1st left Joe Murray(little joe), 2nd left Rex Anderson (Andy) 3rd from left Norm Judd, 4th from left Ray Walton, 5th left Whi Wanoa.

"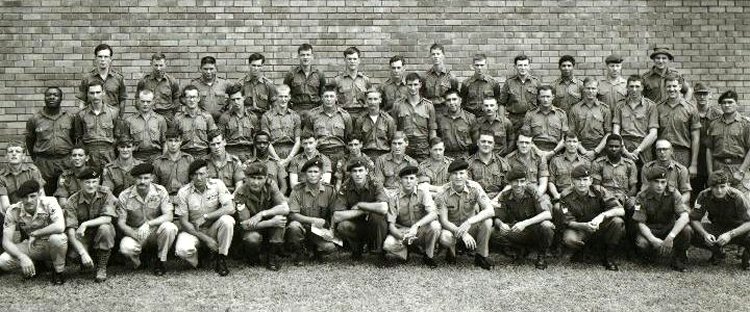 This is a mixed class of Brit and US along with the instructors (see above) and a Ghurka officer in the middle of the front row. Francis is in the

third

row

standing

, second from the right. We need some help with identification. Thanks to Francis for sharing these images. Update from Chuck Steward: 1st row, L to R: SSG Syndrum, (?), SSG Tharp, SSG Adams, Staff Rutledge, (?), LT Hugh Oakley-Browne, LT Malone, (?), (?), (?), (?), (?). 2nd row; far right - SFC Wiley Clark (class leader), the others are unidentified. Back row L to R; (?), (?), SSG Luis Roselio, SP5 Charles Steward, PFC Jerry W. Bates, (?), (?), (?), SSG Gary Fowler, SGT Raymond Osborn(e), (?), (?), (?).