COMBAT TRACKER TEAM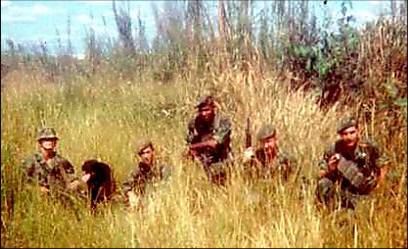 See index below
MS of the Viet Nam War,
wThe COMBAT TRACKER TEAMS of the Viet Nam War,
were small, highly-trained units usually consisting of
five men and a Labrador Retriever. The purpose of
CTT was to: reestablish contact with the "elusive enemy";
reconnaissance of an area for possible enemy activities;
and locate lost or missing friendly personnel.
The methods used in completing the missions
were Visual and Canine Tactical Tracking. The unit
was usually supported by a platoon or larger force
and worked well ahead of them to maintain
noise discipline and the element of surprise.


THIS SITE WAS UPDATED
17 August, 2021

NEW:
PHOTO ALBUM
Section L, Pages 23, 24


Send comments and suggestions to
Webmaster

COMBAT TRACKER TEAMS
OF THE VIETNAM WAR, INC
is chartered in the State of Pennsylvania
as a Non-Profit Corporation,
and is tax-exempt under
Internal Revenue Code Section 501(c) (19).
Contributions are tax-exempt and receipts
will be issued for all donations.
The EIN number is 52-2182877

1998-2021
COMBAT TRACKER TEAMS
OF THE VIET NAM WAR, INC.
All rights reserved.
This is an official Web site and
no content from it may be
reproduced or posted without
written permission.